Having Diabetes is a journey and certainly should not stop anyone achieving what they want from their life.
At Exercise for Rehabilitation and Health, we carry this philosophy across all of our interactions with people living with Diabetes, their families, as well as their medical and allied health teams.
Our approach is to partner with clients and their diabetes team to develop and monitor an exercise program based on the most recent evidence to help individuals to best manage their condition so they can improve their overall health and prevent diabetes related complications.
We empower, inspire and truly believe that Living with Diabetes is 'Living a Life without Limits'.
Our Melbourne diabetes team is headed by Nicole French, a leading authority on prescribed exercise for diabetes, and a speaker and expert contributor for Diabetes Victoria.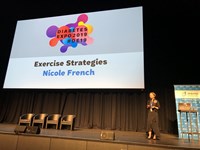 our commitment to the diabetes community
Our contribution to the Diabetes Community is important to us. Over the last decade our work in this area has driven us to grow and develop a leading exercise and diabetes team.
Our Values:
1. Respect
To treat every person living with Diabetes and their families with respect and have our treatment approach led by listening to the individuals affected by the condition.
2. Gratitude
Be inspired to be better clinicians and develop innovative programs to give back to those individuals that entrust their health care to us.
3. Partnership
To collaborate and exchange knowledge with organisations world wide to be at the forefront of research and technology to share with our diabetes community.
---
---
Type 2 Diabetes
There is strong clinical evidence demonstrating that the right exercise prescription can deliver improvements to people living with Type 2 diabetes, specifically
Improving blood glucose levels
Reducing weight - improving lean muscles mass and reducing body fat
Reducing waist circumference
Improving blood lipid profile
Managing blood pressure
It is well documented that managing these aspects of our health significantly reduces the risk of diabetes related complications whilst maximising health.
---
Type 1 Diabetes
We understand that living with Type 1 is filled with challenges, particularly around exercise and the fears associated with having a 'hypo'.
Our team is trained and ready to help you design and implement a safe and effective exercise plan to ensure you remain active and healthy! We can also help with advice if that's what you feel you need - our most common questions we get asked are:
'Can I exercise with Type 1 Diabetes'
'When should I exercise and what are the normal ranges for my blood sugars before, during and after exercise'
'When should I cease exercising', and
'How should I treat a hypo if this happens during exercise'
Plans based on strong, recent evidence are valuable in helping individuals managing Type 1 Diabetes and improve their overall health with safe and effective exercise.
diabetes expo 2019 #DE19 - It's a wrap
What an amazing Expo! Thank you to Diabetes Victoria for having us involved in both the community stream as well as the education stream for GP's and Pharmacists we had an amazing time and feel even more inspired to continue help every Australia living with Diabetes.
Check out our photo collection below ...
Want to get started on some reading which explores some exercise guidelines and some great information to guide exercise intensity ... CLICK HERE to take you to Nicole's Choosing the Right Exercise Intensity blog.